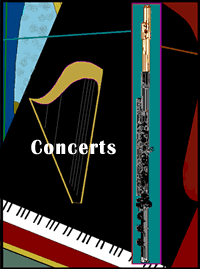 Click here to purchase CD Recordings of Live Concerts.

"Sounds of Harvest and Holly" - November 14, 2003
"Beautiful..impressive..always wonderful and enjoyable musical selections."
"We are coming to all of the concerts next season. We really love Tracy and the trio. The Wyndfall Flute Orchestra was exceptional..a real musical treat."
"A great way to spend an evening. Just gorgeous and fun!"
"Concert on the Grass with the Wyndfall Trio" - October 11, 2003

After standing ovations and cheers for more, the audience members all agreed that the Wyndfall Trio was "the most enjoyable concert they had ever heard".
"Stunning...Magnificant...Incredible technique and musicianship. .Beautiful and exquisite... cannot wait to hear more in November at the Sounds of Harvest and Holly concert at the Fox theater on November 14th".
Thank you to the Haxtons for being such wonderful, warm and inviting hosts!
Program:
Entr'acte by Jacques Ibert for Flute and Harp.
Mozart Concerto arrangement for flute, harp and piano (2nd movement only) .
Fantasie Pastorale Hongroise (Hungarian Fantasy) by Franz Doppler for flute and piano.
Variations on a Russian Folk Song and Waltz Mazurka written and performed by Svetlana Harris.
Sentimentale - an arrangement for flute, harp and piano - music by Claude Bolling.
Carmen Fantasy by Francois Borne for flute and piano.

The Wyndfall Trio—Tracy L. Harris-Flute, Wendy Harris-LeBlanc-Harp, and Svetlana Harris-Piano.


If you are interested in booking Tracy Harris for a solo engagement, solo recital, orchestral performance or clinic, please send your request with your current contact information to TracyHarrisFlute@Yahoo.com.
If you are interested in booking the Wyndfall Trio please contact us.