Presented by Tracy Harris—Concert Flutist and Yamaha Performing Artist


Click on a link below to view complete information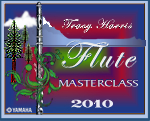 Tracy Harris Flute Masterclass 2010
with Yamaha Performing Artist and Clinician Tracy Harris.
Guest Artists: Dr. John Barcellona
and Mary Karen Clardy.
August 17-20, 2010
St. Nicholas Ranch and Retreat Center in Dunlap, CA

Also featuring: Svetlana Harris, Piano
Wendy LeBlanc, Harp | Todd Harris, Composer

Play Level: Intermediate to Professional
Ages: Age 12 to Adult
Focus: Baroque, Romantic, Classical, Contemporary Application Deadline: July 15, 2010

Click Here for More Information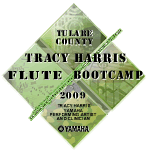 Information for the 2010 Flute Bootcamp Coming Soon!
Click Here to View the Latest Additions to the Gallery, including the 2009 Tracy Harris Flute Masterclass, and the new Tracy Harris Flute Boot Camp.

Flute Clinics With Tracy Harris
Tracy's flute clinics are offered to students of all ages and abilities. All clinics are presented in a comfortable atmosphere of camaraderie and support. Tracy's clinics are not only informative but a great deal of fun injected into the class whenever possible. Tracy combines a comforting, warm environment with a clear analytical approach which results in an environment conducive to optimal learning.

All necessary fundamentals are covered in Tracy's clinics with a daily routine outlined for each student. Ms. Harris believes that each student is a unique individual and places emphasis on the well-being of each participant enabling each student to reach his or her maximum potential.
Tracy's clinics emphasize how to become a "complete flutist" by covering a wide range of elements such as; technique, tone production, intonation, stage presence, care and maintenance of the flute, the production of vibrato, interpretive techniques, productive practicing, how to pick a new flute, history of the flute, and much more.
Tracy Harris is a Yamaha Performing Artist and Clinician and is an active performer and teacher giving recital and concerto performances both as a solo artist and as a member of her award winning flute, harp and piano trio "Wyndfall". Tracy teaches masterclasses and clinics throughout the United States and Canada. With twenty years of experience, Ms. Harris' students have gone on to win prestigious competitions, scholarships and grants to many of the best universities and conservatories. Ms. Harris has former students in symphonies, wind ensembles, military bands, concert bands and chamber music ensembles. Tracy also conducts the highly acclaimed Wyndfall Flute Orchestra which performs to enthralled audiences throughout the year. Ms. Harris maintains a large private studio in Visalia, California and will be releasing her new CD soon.

1. All things flute! Tracy's most popular clinic. This is a general flute clinic which touches on everything from tone production, to how to pick a new flute. Students will learn about a wide range of flute topics and are provided with a folio which contains handouts which include exercises the student can do at home which will help them improve tone quality, technique and intonation. Practicing techniques are also covered.

2. All things Tone and technique! This clinic focuses on tone production, intonation, vibrato, and shows in a clear and concise way how to create a better and bigger sound that is not only beautiful but in tune. Tone developing exercises are demonstrated as well as a methodical approach to developing solid intonation. Solving the vibrato mystery is also included. Students are provided with a folio that contains handouts which include tone development exercises the student can do at home. Good technique is simply a matter of careful progressive work. The many elements that create good technique are discussed and demonstrated with an outline of progressive steps offered to each student in order to ensure the development of solid technique.

3. All things performance! Having good tone and technique and a solid command over your music are important elements when giving a performance, but all your hard work can be lost if your stage presence is not at its best. Elements that combine to create a warm, dynamic and exciting stage presence are demonstrated and discussed. Interpretive tools are also presented.

4. Orchestral Excerpt Master Class – for the aspiring orchestral flutist. Excerpts are discussed in detail including orchestral audition do's and don'ts. The New York Philharmonic's "Top Fifty" most requested excerpts on auditions are reviewed. All class participants perform excerpts of their own choosing.

5. The Solo Flutist Master Class – for advanced players who are actively pursuing a career as a solo flute performer. All aspects of performance are covered in depth as well as repertoire review. Competitions are also discussed. All class participants will be given a chance to play performing a selection from the solo literature.

"I never thought I would understand the mysteries of developing good tone and intonation until attending Tracy's clinic. Her innovative teaching techniques made it all seem so simple and I saw immediate results. I can't believe I can now actually play a high "C" in tune!! "
"I was so nervous when I walked in the door for Tracy's clinic. I was overwhelmed at the idea of having to play in front of a bunch of flutists, but Tracy's sense of humor and support put us all at ease and before long we were all laughing and learning together"
"Developing good technique is so essential, but since I never had the benefit of a private instructor I thought I would never figure it out. Tracy showed me how simple it was to develop good practice habits and showed me a progressive, straightforward way to develop better technique. Now I actually appreciate the importance of scales!"
"So many times, I have attended flute clinics that just addressed issues related to professionals despite the fact that they said it was for all levels, so I would leave frustrated and discouraged. Tracy was a refreshing change including elements important to all flutists at all playing levels. I left feeling inspired and ready to work."
"Tracy's flute clinic covered everything! She gave me information about tone, technique, intonation, stage presence, and the list goes on and on. I even learned how to clean my flute properly, which was something I had never even thought of!"
For More Information, please contact The Wyndfall Conservatory
E-mail: TracyHarrisFlute@Yahoo.com