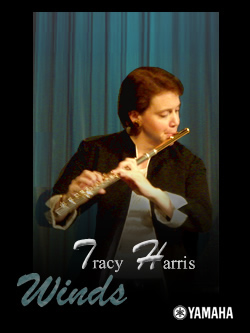 Tracy Harris: Yamaha Performing Artist and Clinician
Tracy Harris has left audiences breathless with her profound and moving interpretation of the great composers from all ages. Her concerts are typically given thumbs up by critics across the country and her versatility has seen her playing with members of Sting on PBS and Disney Studios with equal aplomb. Tracy has been fortunate to have studied with most of the greats of our time, including Dr. Julius Baker, Claude Monteux, James Pellerite, and Jim Walker. In 2002 Tracy was selected by Yamaha to join such great flute artists as Dr. Julius Baker, Jeff Khaner, Brad Garner, Mary-Karen Clardy and Jim Walker to become a Yamaha Performing Artist and Clinician, a title bestowed on only the best instrumentalists in the world.
Tracy Harris maintains a large private studio in addition to conducting Yamaha Master Classes/Clinics, and lectures throughout the country. Ms. Harris is the founder of the Tulare County Wyndfall Flute Orchestra, now in its seventh year. She is also the director of the popular, annual Tracy Harris Flute Master Class, now held every summer at Cal State Bakersfield, and has had such guest artists as Jim Walker, Mary Karen-Clardy, Tadeo Coelho, and John Barcellona. Ms. Harris is also a very active adjudicator often being asked to judge everything from TKMEA competitions to state band and orchestral solo and band competitions such as CBDA. Ms. Harris has also worked in the studios with such Emmy winning composers as Carl Johnson for Disney and has performed at National Flute Association Conventions. Ms. Harris has performed in such master classes as the Julius Baker Master Class in Carmel and the Western Connecticut State University Julius Baker Master Class as well as master classes given by James Pellerite, Ann Zentner and Jean-Pierre Rampal. Ms. Harris has won many local and national honors including; winner of the National Society of Arts and Letters grant competition, winner of the Pillsbury Foundation scholarship competition eight years in a row, winner of the Santa Barbara Symphony Young Artists competition, winner of Santa Barbara Music Club scholarship, winner of Performing Arts Scholarship Foundation Competition, and winner of the American Scandinavian Foundation competition.
Tracy Harris was one of a select few invited to audition for the Metropolitan Opera Orchestra at Lincoln Center and Ms. Harris has performed solo recitals, chamber music, and concertos across the United States and has premiered many new pieces. As an accomplished soloist and orchestral musician, Tracy has performed concertos or has held principal chairs with many different ensembles such as; the Santa Barbara Symphony, Santa Barbara Chamber Orchestra, the Coastal Valley's Symphony, the Tulare County Symphony, the West Coast Symphony, the Santa Barbara Chorale Society, Ojai Requiem Orchestra, Santa Ynez Valley Orchestra, the Santa Maria Symphony and the Tulare Symphony to name but a few. Ms. Harris has served as Artistic Director of the Coastal Valley's Symphony Chamber Series and has performed in many new music premieres with such composers as Patrick Cassidy for his U.S. premiere of "Famine and Remembrance". She has also performed in the world premiere of Phillip Lasser's "The Alchemist". Ms. Harris has made recordings with the Pacific Coast Chamber Orchestra and has recorded for the PCPA Theaterfest for 15 years.
Ms. Harris is also the Director of Music Theoretic Studies at The Pacific Center for Advanced Studies which was formed in 1993 for the purpose of advancing our knowledge of the world in an environment free of constraints. The center is composed of five advanced institutes, encompassing major segments of contemporary science; The Institute for Mind/Brain Research, The Institute for Computational Neurological Research, The Institute for Theoretical Physics Research, The Institute for Music-Theoretic Research and the the Institute for Information-Theoretic Research. The Pacific Center is dedicated to helping us promote our understanding of the world while improving our lives through research. This research has resulted in hundreds of original papers and a range of other publications aimed at both experts in the various fields and the general public, interested in the results of cutting edge research.
Click here for information about Tracy's Flute Clinics and Masterclasses.
*Tracy plays on a Yamaha heavy Wall, 14K 892 Julius Baker Model Flute with a "K" Cut Headjoint.